"Substance Use Disorders in Adolescents: Screening and Engagement in Primary Care Settings"
Author: Samuel Parrish, MD
Directed and produced by Christof J. Daetwyler, MD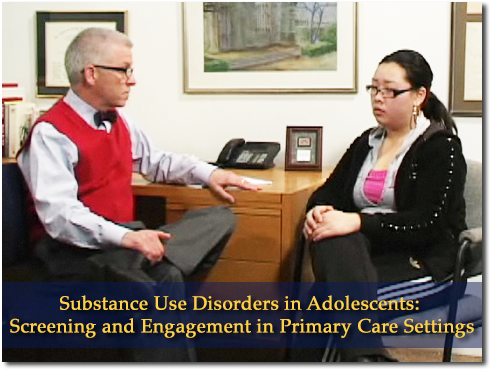 This media-rich, on-line module was created through the collaborative efforts of the National Institute on Drug Abuse (NIDA), Drexel University College of Medicine, and the University of Pennsylvania School of Medicine as part of NIDA's Centers of Excellence for Physician Information.

This module was produced using Federal Government funds, therefore, the material is in the public domain and may be reproduced or copied without permission. Additionally, this curriculum will remain in the public domain even after publication on a copyrighted Web site.
A supplemental "Facilitator Guide" is available for download.
Credits:
Author: Samuel Parrish, M.D.
Dr. Samuel Parrish is an Associate Professor of Pediatrics and Adolescent Medicine and the Associate Dean for Student Affairs and Admissions at Drexel University College of Medicine. Dr. Parrish previously served as the Medical Director for The Bridge, an adolescent inpatient substance abuse treatment program in Philadelphia. He has served as a reviewer with the Substance Abuse Mental Health Services Administration for both Center for Substance Abuse Treatment and Center for Substance Abuse Prevention programs. He has provided education and substance abuse prevention programming in previous positions in North Carolina and in Baltimore prior to joining Drexel University College of Medicine in 2001. Dr. Parrish served as the Director of the Student Health and Wellness Center at Johns Hopkins University and was involved in substance abuse education and prevention programming at the undergraduate campus.

Dr. Parrish is the current National Chairman of the Committee on Student Affairs for the Group on Student Affairs of the Association of American Medical Colleges (AAMC). He also serves as a member of the Steering Committee for the Group on Student Affairs, the Visiting Student Application Service, the Working Group on Housestaff Feedback and Tracking, and the Mental Health Services subcommittee for the AAMC.
Production Design, Production, Postproduction, and
Implementation: Christof J. Daetwyler, M.D.
Dr. Christof Daetwyler is Associate Professor at Drexel University College of Medicine, Office of Educational Affairs. He spent most of his career on research, design, and implementation of technological enhancements in medical education. Before coming to Drexel University in 2004, Dr. Daetwyler served as Visiting Assistant Professor for 3 years at Dr. Joe Henderson's Interactive Media Lab at Dartmouth College Medical School. There he produced and directed large-scale educational multimedia productions, among them "Smoking Cessation for Pregnancy and Beyond," which was funded by the Robert Wood Johnson Foundation. Dr. Daetwyler received his medical degrees from the University of Zurich Medical School in Zurich, Switzerland in 1993 and University of Berne, Switzerland in 1999. Dr. Daetwyler was the recipient of several prestigious awards, among them twice the European Academic Software Award (1998 and 2000) and the Surgeon General's Medal of Special Appreciation in 2004, received from the former Surgeon General of the United States, Dr. C. Everett Koop.
Communication Skills Expert: Dennis H. Novack, M.D.
Dr. Dennis H. Novack is Professor of Medicine and Associate Dean of Medical Education at Drexel University College of Medicine. He is a general internist who completed a 2-year fellowship with George Engel's Medical-Psychiatric Liaison group in Rochester, N.Y. (1976-1978). Since 1978, Dr. Novack has been in academic medical centers, dedicated to improving education in physician-patient communication and psychosocial aspects of care. First at the University of Virginia and then for 12 years at Brown University, he directed psychosocial education in primary care, internal medicine residency programs. He also co-directed the first-year medical student course in medical interviewing and psychosocial aspects of care at Brown University Medical School. At Drexel, he directs clinical skills teaching and assessment. He also directs the first-year course at Drexel on physician-patient communication, psychosocial aspects of care, and physician personal awareness and well-being.
Videographer: George Zeiset, B.A.
George Zeiset received his diploma in the study of Radio, Television, and Film. He is the Director of the Technology in Medical Education (TIME) group, which is responsible for all aspects of technology and media for medical education at the Drexel University College of Medicine. In this function, he makes all lectures available online to the students. He is also responsible for setting up videoconferences and taping video for educational purposes.
Young Actors in the Videos:
Ciera Crafton
Joseph Lasher
Jose Rivera, Jr.
Helen Wong
Version History:
Version 1.2 as of 07/29/2013 - 4th revision based on AACAP and NIDA feedback
Version 1.1 as of 03/07/2012 - 3rd revision based on JBS and NIDA feedback
Version 1.0 as of 12/14/2011 - 2nd revison based on NIDA and JBS feedback
Version 0.2 as of 07/27/2010 - 1st revision enhanced with MP4 videos and HTML5 code
Version 0.1 as of 05/20/2010